Videocon d2h recharge online is now available at Dishtvhd. We are your very own DishTv, Satellite receiver, Led TV, UPS, LNB and Tata sky , Dish TV channels provider.
Our services also include after sales and support that we give to our clients on non-stop basis. All our clients leave us positive feedback. Dishtvhd is proud to partner with many international Dish TV companies to bring hundreds of HD channels in Pakistan. The Videocon d2h recharge makes life simpler by giving you the  online option.
THE VIDEOCON D2H RECHARGE ONLINE WILL ENABLE YOU TO APPLY FOR YOUR FAVORITE PACKAGES WITHOUT ANY HASSLE:
Specifically, the D2h recharge offers are available for all our clients from Pakistan. Dishtvhd  is the pioneer in bringing these services to Pakistan. Our clients keep on requesting for more channels. Which enables us to provide them with a better viewing experience. we encourage you to let us know if there are some channels or programs that you would want to watch online and through our platform.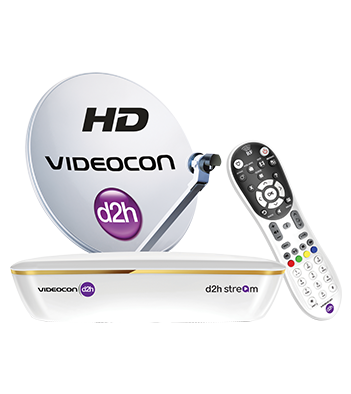 VIDEOCON D2H RECHARGE ONLINE OFFERS ARE CHEAP AND AFFORDABLE:
Further, all our prices are nominal and easy on the pocket. The quality of our products is excellent. We are a trusted supplier of Dish TV products and packages. Videocon d2h recharge helps the clients with availing all the packages and promotions at the convenience of their home. The Videocon d2h app has made life easy for the service users. You can download the app on IOS and android.
Incidentally, the set up is simple and fast. The Dishtvhd and Videocon d2h customer care is efficient and reliable. Videocon d2h packages include platinum, gold sport kids and Platinum HD. We provide a step-by-step guide to your Videocon d2h recharge. We accept debit and credit cards and the payment method is secure.
THE VIDEOCON D2H PLANS ARE EXTREMELY ECONOMICAL AND EASY TO INSTALL:
The D2h recharge is also an ideal way to pay your monthly dues and buy new packages for the coming month. Further more, we also offer Videocon mobile recharge and Videocon new connection in Pakistan allows you to get a prepaid wallet and it is an exclusive online recharge for your convenience. Videocon is a diversified Indian company from Mumbai.
They have 17 plus manufacturing units in India, China, Poland, Italy, and Mexico. Their subsidiaries are Videocon d2h, next, and Videocon telecom. We also provide one-month free viewing card for our first time service users. The options are unlimited when it comes to Dish TV and HD broadcasting. The entire experience is excellent and the latest technology is game changing.
However, we offer great discounts on all our Videocon d2h recharge online packages. And our customer support in fantastic, when it comes to providing service we have a dedicated team of expert.
Dishtvhd is proud to offer the services of videocon d2h in Pakistan & Videocon new connection in Pakistan. In that case, our channels are internationally popular and some have the best viewership in the world.
Converesely, the Videocon has partnered to provide the best HD TV channels in Karachi. All our products are durable. They last the user a significant amount of time. The wear and tear on these products is not much. To conclude, the Videocon d2h recharge online and Videocon New Connection in Pakistan is ideal for any household.